The solar panels are getting bigger in watts and staying the same physical size.
Go Power's solar panel efficiency increased! They have released their new 190 Watt solar module which updates their 170 watt module, which updated their 160 watt module. The same footprint of panel now gives you an extra 30 watts of power.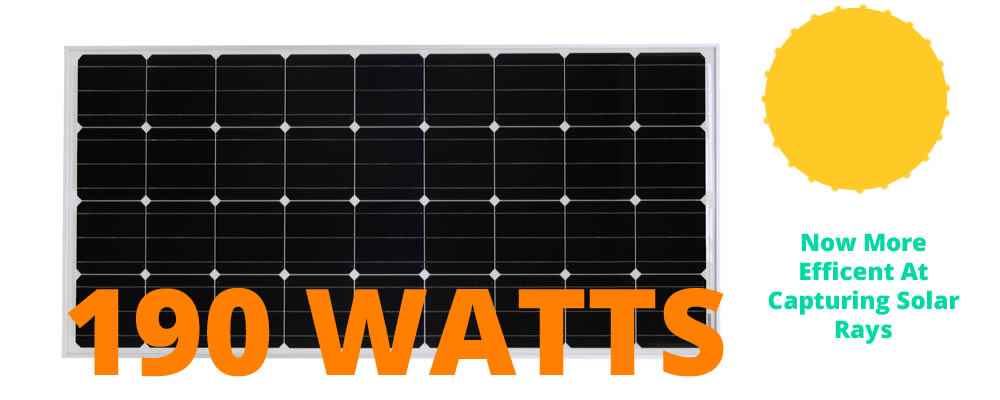 This panel is being used in many of their RV solar kits, thus every kit using this panel will now provide more power for individuals in their RV, Boat or Cabin. In the end, this panel will now allow a user to run their fans, lights, computer etc. that much longer per day.
The new panel is rated at 9.3 Amps and is 26.30″ X 59.06″ or 668mm X 1500mm in physical size. This will use the same layout guide as before.
25TH JUL 2019 BY CHAD WHITNEY
190 Watt Solar Module Specification Sheet
To purchase any of these RV Solar kits, check out the products below
190 Watt panels are a great RV size and foot print
For years we sold the Go power 190 high quality solar panels. This robust size was powerful yet had a great form factor.
This Go Power kit is the basic building block of a standard RV solar kit. It comes with the solar panel controller, brackets and solar cable.

Last updated 3 mins ago

With Go Power panels you know you will get what you pay for. They are a little more exspensive and the quality is there to support the price.
Maybe save a few dollars with another RV solar panel brand.
This is a 190 watt bare solar panel. It claims to be RV friendly and has a pretty good price.

Last updated 3 mins ago

There are always different panels that you can choose to build your solar array from. Always consider price versus quality. Solar panels are things you really don't want to have to replace. It is a pain, so choose what works for your RV or off-grid array.
Need to add solar panels to your RV?
Depending on how large your charge controller is on your mobile solar array, you may be able add additional panels. Important factors to know when trying to add panels to your array: * How many amps can your charge controller handle * How many amps of solar are in your array * How is your array wired (Parallel, Series, Series/Parallel) * How much space do you have on your RV roof for more solar panels Here is a selection of panels to grow a Go Power System
There are other brans on the market, we have found Go Power! to be among the highest quality gear on the market. Their service has been friendly and reliable. However they can be a bit higher priced.