Some Thor campers come prewired for solar
A lot of the new Thor motorhomes, Class Cs and travel trailers are now coming prepped for solar. This means that the wires for the solar are already installed in the rig and have a Cable Entry Plate on the roof ready for the panels to be plugged in. Adding the right amount of solar, power inverter and batteries to your RV is the most environmentally friendly way to go boondocking. Let one of our experienced reps design a balanced system for you.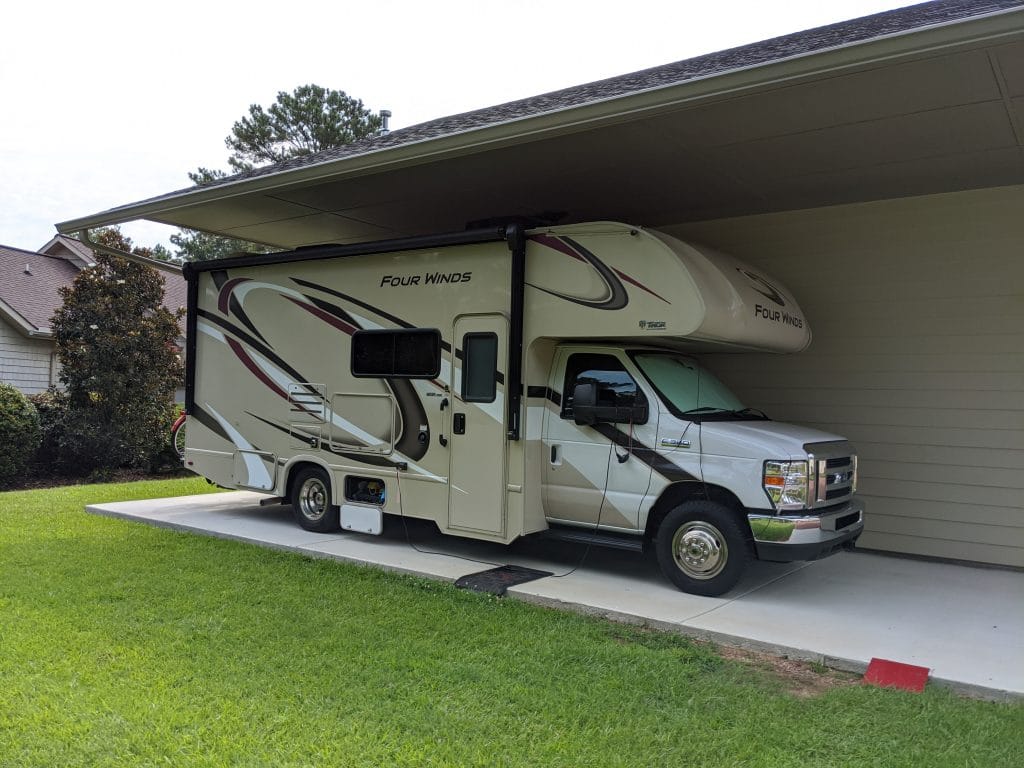 New RV cable entry plates are used on the roof
Check out your RV manual to see if your Thor has solar on the roof.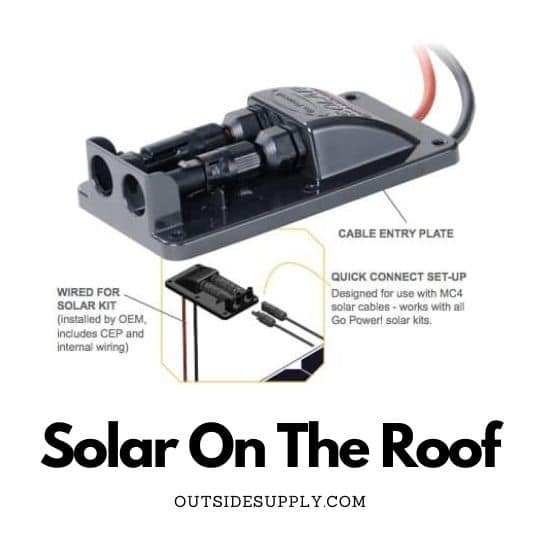 Need to add solar to your Thor RV?
If you already have a solar panel and charge controller on your Thor RV, you may be able to just add an expansion panel. This panel will come with the branch connectors to make easy on roof plug and play connections. A 30 amp Go Power Controller can support up to 3 of the 190 watt panels.
Add the solar panels on the roof of your Thor RV
Want to connect to the cable entry plate on the roof of your RV?
This cable entry plate is the best way to make permanent solar panel connections that are out of the way and mostly safe from theft. The CEP-25 has MC-4 connector attachments that allow for quick connecting solar wires to the panels. MC-4 cables will extend usually 18 inches from the panel. These should be fine to conenct to cable entry for a single panel install that is close to the cable entry plate. If you want more than one solar panel or you cable entry plate is far from panel install, ordering a couple of extra MC4 extension cables can make wiring easier on the roof. These cables are almost always ordered in pairs, so get two of them.
When adding panels this is where MC-4 branch connectors will come into play when wiring in a standard parallel configuration. Most of the expansion kits will come witht these although you can order them as matched pairs.
Panels and kits if you have a charge controller installed
A 30 amp controller can typically handle up top three of these 190 watt panels.
Full RV solar kit if you still need the solar controller
You can add up to of the expansion kits above to a the base solar kit below.
Wondering what the solar on the side of your RV connector is for?
Connecting to the solar port on the side of your RV
The port on the side is connected directly to the battery in most wiring setups. Check your Rv's manual to make sure this is the case.
This port has a standard connector in many portable solar kits. Commonly referred to as an SAE connector. Portable kits usually have the charge controller in line or on the back of the panel. This is why the port usually is wired directly to the battery.
If there is a side connection, a customer needs to look at our portable solar units and our portable solar guide for more information.
Many of the portable solar kits come with a wide range of connectors. This allows easy connecting to your RV and also other equipment.
If you don't have a controller or any panels you will need to purchase the Go Power base RV solar kit.
Most of the installs we did on Thor RVs that were prewired opted to add the inverter and solar panels as a set.
There are 2 main kits available from Go Power
A few extras that are often need for installation
There are always extra items that mey need to be purchased when trying to install an RV solar kit in your RV. Dicor is a common brand people use on their RV roofs when installing. Follow the manufacturers suggestions and instructions. Make sure your roof is compatible with whatever type of sealant you choose.
You will often use more sealant than you think and it is always good to have a little extra around to reseal roof yearly.
Finding lost prewired solar wires
It is very frustrating to find cables that are in an RV that was prewired at the factory, but the locating stickers were removed.
A few tips are look for pictures of your RV on the internet as they often have these stickers still installed in videos and diagrams. Another is to use a tool to search for the cables. These scopes can really help with lots of projects like this and aare a great tool to have around.