Looking for the base 190 watt solar kit to get your RV off-grid power?
The 190 Watt RV Solar Kit is meant to keep the house battery full. It puts in a modest 9.3 amps of charging power per hour back into the battery. This panel is an inexpensive, permanent solution to keeping the RV battery topped off when it is not plugged into shore power.
This 190 kit includes many of the items you need to install:
– 190 watt solar panels
– PWM 30 Amp Bluetooth Lithium Compatible Controller
– Mounting Hardware
– 25′ MC4 (#10) Cables – RED & BLACK
You do need sealant and possible butyl tape.
Here is what y'all will get in most 190 Watt RV Solar kits
190 Watt Go Power Solar Module
This kit uses Go Power 190 watt rigid solar panels for power production. The 190-watt solar panel is roughly 27″ X 60″ and has a 25-year output warranty directly from Go Power, a trusted name in RV solar for decades. The module utilizes MC-4 connectors for easy watertight connections on the roof. It is designed and warrantied for RV use.
Solar Charge Controller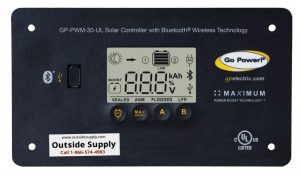 ]
The Go Power PWM 30 Bluetooth Lithium controller can handle solar arrays up to 570 watts. Primarily for RV use, It is designed for flush panel mounting, but there is an optional knockout box available for surface mounting. To protect and properly charger your house battery bank, the controller has several different battery charging profiles including Sealed, AGM, Flooded, and Lithium. It can charge two battery banks and is our most common RV charge controller. It is UL listed and now has Bluetooth connectivity. There is also a USB port on the front of the charge controller.
Solar wires and branch connectors
Each prewired panel kit will include the needed solar extension cable pairs and the multi-panel kits will also include the branch connector pairs for the 2nd and 3rd panels. MC-4 solar connectors are used for all roof connectors to make them watertight and quick connect.
Mounting Brackets
Each panel in the kit will come with a set of mounting brackets and hardware from Go Power. These brackets are designed to connect the panel to the RV roof. There are 4 brackets per panel that connect to the aluminium frame of the rigid frame.
190 Watt panels are a great RV size and foot print
For years we sold the Go power 190 high quality solar panels. This robust size was powerful yet had a great form factor.
This Go Power kit is the basic building block of a standard RV solar kit. It comes with the solar panel controller, brackets and solar cable.

Last updated 3 mins ago

With Go Power panels you know you will get what you pay for. They are a little more exspensive and the quality is there to support the price.
Maybe save a few dollars with another RV solar panel brand.
This is a 190 watt bare solar panel. It claims to be RV friendly and has a pretty good price.

Last updated 3 mins ago

There are always different panels that you can choose to build your solar array from. Always consider price versus quality. Solar panels are things you really don't want to have to replace. It is a pain, so choose what works for your RV or off-grid array.
Need to look at solar kits with inverters, check these packages out
This is a great entry levelf Go Power's Inverter Charger Kit. They offer the Elite and Extreme kits. These have different amounts of solar and also different size Inverter units.
The Go Power! Elite Solar Kit - IC-2000 - 380 Watts of solar
We have found these kits contain much of what you need for getting going with off-grid solar and inverter power. We have also added lithium battery and sealant as well