Warning
: Undefined array key "className" in
/srv/users/outsidesupplyonnewserver/apps/outsidesupplyonnewserver/public/wp-content/themes/astra-child/functions.php
on line
29
Pre Wire For Solar RVs may require a different base solar kit as the wiring done at the factory is not always optimized for the retail kits.
There are many sizes of panels that will work with the prewired RVs. Our Go Power solar kits are designed to pair with the prewired solar wiring on these travel trailers. These prewired solar trailers can come in a couple of different configurations. The cable entry plate is sometimes at one end of the trailer or motorhome and after additional equipment is installed, the ideal solar panel location is across the entire roof.
Solar Tip: If you can't figure out which configuration your has, give us a call at (We No Longer Take Phone Calls) and we can help.
Article Updates
Updated for the new 190 Watt Prewired Solar Kits : Updated in July 2020
Updated: 05/20/2019 Many of the travel trailers from brands like Forest River, Airstream, and Jayco are coming prewired for RV Solar. This implementation is called the Wired for Solar program.
Updated 06/20/2020 Some travel trailers are coming prewired with installed 10 Amp Go Power PWM Controllers. These will handle the Prewired Overlander Kit
Cable entry plate makes wiring easy for rv roof solar
Many of these travel trailers are using the Go Power cable entry plate on the RV roof. These cable entry plates make hooking up a Go Power solar kit a breeze. All that is left is mounting the panels, fusing the wire and installing the charge controller. Most of the hard work of running cables has already been completed by the factory.
This can save as many as 5 hours off a standard install of solar panels on your travel trailer, fifth wheel, camper or motorhome. Not all of the prewired RVs use these cable entry plates, but instead, use 2 MC-4 wires terminating through the roof.
Charge Controller Prewired for Solar Sticker Alert
Many of the prewired RVs have a sticker that looks like a charge controller. It is usually help in locating placement for the controller and locating the solar cables coming in from the roof.
The newer option is for some Trailers to come prewired with the circuit completed from the cable entry plate through a charge controller and completed at the battery. This is more rare of an install an often uses an SQ designated charge controller.
The charge controller below is the Go Power PWM 30 model that is designed for the prewired solar kits. The Prewired For Solar sticker will most likely resemble this device and sometimes is even a template.
Solar Charge Controller
The Go Power PWM 30 Bluetooth Lithium controller can handle solar arrays up to 570 watts. Primarily for RV use, It is designed for flush panel mounting, but there is an optional knockout box available for surface mounting. To protect and properly charger your house battery bank, the controller has several different battery charging profiles including Sealed, AGM, Flooded, and Lithium. It can charge two battery banks and is our most common RV charge controller. It is UL listed and now has Bluetooth connectivity. There is also a USB port on the front of the charge controller.
Which panels are right for your travel trailer?
There are 2 main types of panels that we have to match the Go Power prewire setups. These panels are rigid solar panels and flex solar panels. The flex panels can curve to match shapes on Airstreams while rigid panels have better warranties and are usually are a little less expensive.
Depending on which travel trailer make and model you have will determine which type of panel is best for your needs.

A selection of pre wired solar kits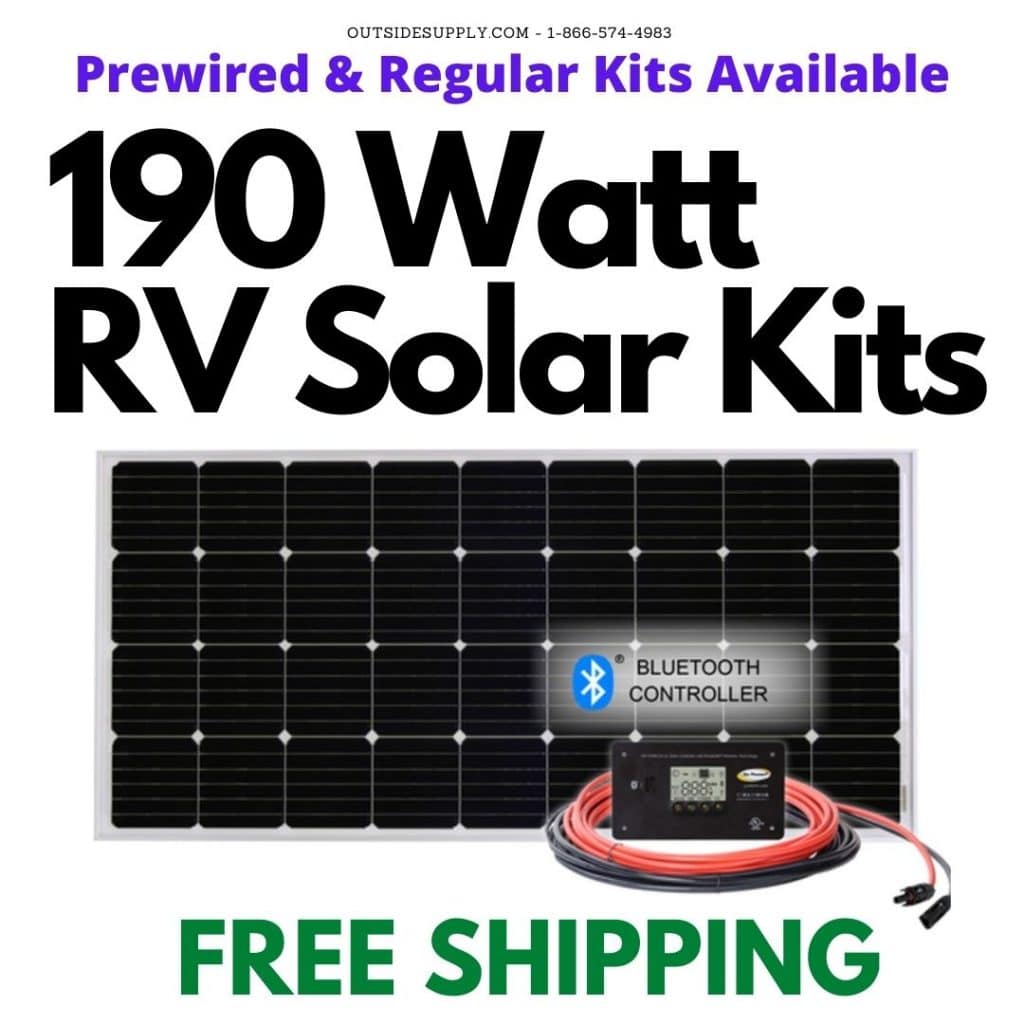 Regular RV Version 190 Watt Solar RV…
Here is a reference of travel trailer brands that we have heard that Go Power solar prewires are included in:
The 190 watt prewired RV solar kit is the base kit that most people purchase for their travel trailers. There are also the 380 watt, and 570 watt pre wired versions.
Have a question about RV solar power, reach out and we will try to help.
Struggling with what to buy? Need more information or have questions about solar power or inverter systems for your RV, reach out on the form below or call us at (We No Longer Take Phone Calls).
More Information on Panels from our RV solar guide
A selection of articles that may be helpful when building and installing a solar system in your solar ready RV.
RV solar panels are subjected to much more wind and other forces than a panel…