New GP-SLIM-100 RV Solar Kit Go Power! Expansion kits feature Solar Branch Connectors (multi-contact) for parallel wiring between our solar kits. This interlocking system allows for simple installation that is reliable and safe. Narrow design allows for more installation areas than before. Less than 14 inches wide opens up a lot of areas next to equipment that once blocked traditional panels.
A SLIM 100 W Solar Kit with a PWM-30 Amp Bluetooth® Solar Controller is ideal for RVs or boats with limited roof space. Power your lights, fans, and other DC appliances using power generated from the sun. Perfect for maintaining your battery charge on overnight adventures off the grid.
Slim panels may just allow your solar system some growing room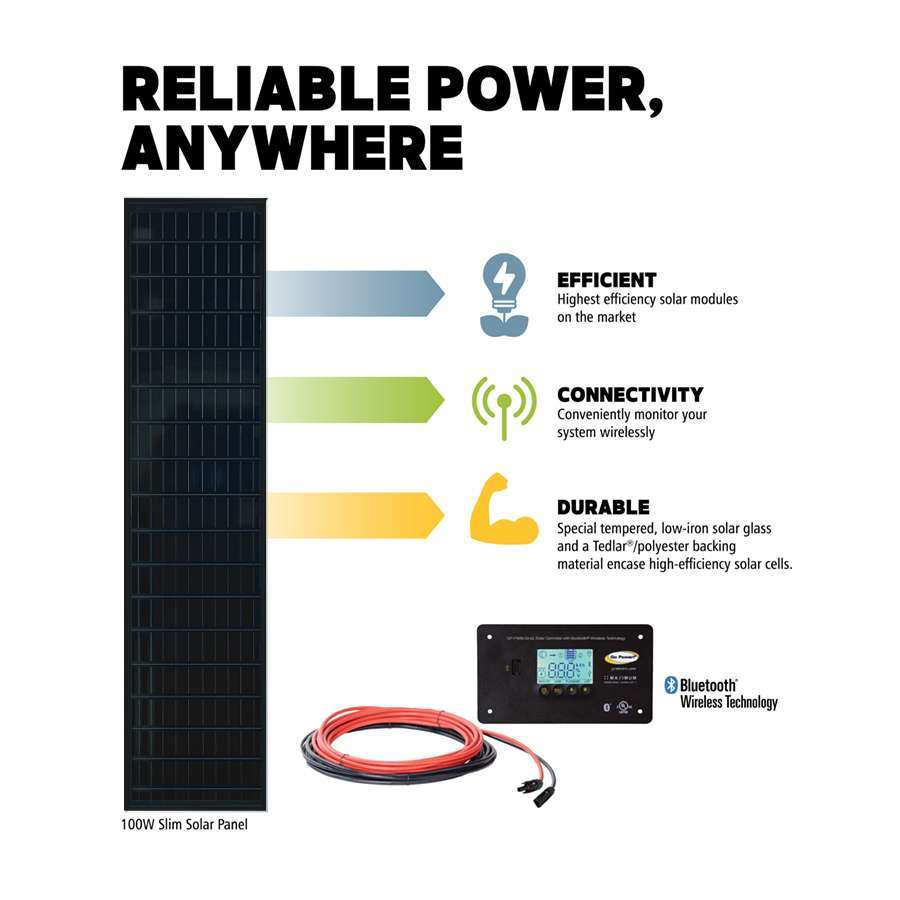 GP-SLIM-100 RV Solar Kit
This kit is best paired with at least 200Ah of AGM Battery Power, or 100Ah of Lithium Battery Power.
Slim, space saving design ideal for vans, marine and anywhere space is limited
Designed to be used around AC units
Maintenance free and designed to provide decades of uninterrupted power
25-year limited solar panel output power warranty
Easy to install, flush mounted 30 amp digital solar controller
Expandable. Allows for 600 watts of solar with the same controller
Slim 100 Solar Panel Spec Sheet
Shop Go Power Slim Rv Solar Kits and Expansion panels
The slim models may be what you need to increase your off-grid solar output. As the slim panels hit the market. You will find more and more offerings for them.