Warning
: Undefined array key "className" in
/srv/users/outsidesupplyonnewserver/apps/outsidesupplyonnewserver/public/wp-content/themes/astra-child/functions.php
on line
29
Warning
: Undefined array key "className" in
/srv/users/outsidesupplyonnewserver/apps/outsidesupplyonnewserver/public/wp-content/themes/astra-child/functions.php
on line
29
Choosing a reliable solar kit is a must when purchasing a setup for your Fifth Wheel Trailer.
Fifth wheels usually have larger system and can even come with residential refrigerators. The trailers range fro 26 feet to over feet in length.
Brands like Jayco and Forest River are even prewiring their RVs for adding solar panels on the roof of the trailer. The common install involves between 1 and 8 solar panels and house battery banks approaching 750 Ah.
We carry a wide selection of RV grade solar kits that can handle the demanding environment you can travel. Outside Supply can help you choose the right solar kit for your rig. Give us a call at (We No Longer Take Phone Calls) to discuss what solar panels on your Fifth-wheel might charge. Most of our customers order on the phone. You can request a quote using the form below as well.
Solar panel charging systems for 5th wheel trailers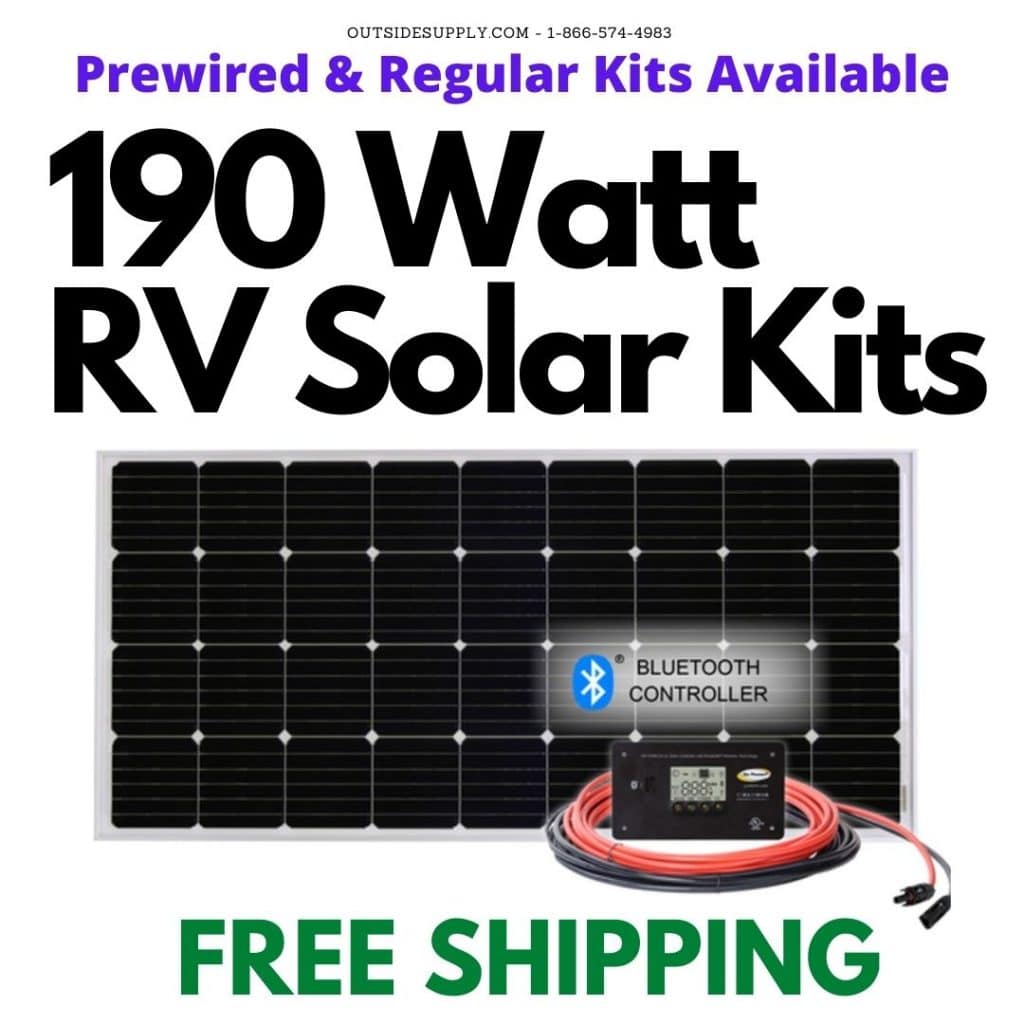 Regular RV Version 190 Watt Solar RV Kits 190…
Have a question give us a call at (We No Longer Take Phone Calls) or request a quote
Learn more about operating off-grid with your fifth wheel camper
Fifth wheel campers are often used for more permanent longer-term travel. This is because they have lots of space paired with easier towing. Thus they are the RVs that need the most remote power solutions. Rigid solar panels are the most popular because they have longer warranties and are more durable. Lithium batteries are now becoming the standard for larger RV battery banks. These units will almost always add an Inverter charger for running 120-volt loads when boondocking.
We sell bare panels from the RV solar kits for replacement and system expansion. Give…
It can sometimes be really tricky to find the prewired solar cables in a solar-ready…
Understanding the importance of UV protected wire for your solar setup is key to optimizing…
A nice selection of RV solar panels that can keep your batteries charged in your…