Go Power Cable Entry Plate KIT GP-CEP-25
Cable entry plate kit with 25 foot cable
This product includes the 25 foot cables already in the cable entry plate.
With the Cable Entry Plate, installation is cleaner and more flexible.  No longer is the solar cable's entry limited to the refrigerator vent.  With Go Power's Cable Entry Plate, run the wires through any part of the roof you choose, ideally as close as possible to the battery for the most effecient charging and minimizing energy loss.   This product has been designed from the ground up to provide the best solution on the market for a cable entry port for RV rooftops.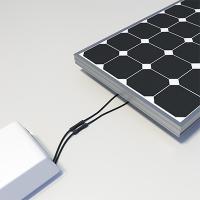 High quality materials and smart design have gone into making this product the perfect companion to making a cleaner RV solar installation.
(1)  Waterproof MC4 cable glands (IP68 rated) come pre-installed and tightened to the correct torque.
(2)  Tough, UV-resistant polycarbonate plate able to absorb impact energy without cracking, even at low temperatures -40°F to 170°F (-40°C to 80°C)
(3)  Molded-in rings seal against the underside of the screw heads
(4)  Inside jam-nut thread locked for vibration resistance
(5)  Built for 10 gauge MC4 style solar cables
(6)  End holes provide strain relief when panel wires are connected
(7)  Cradle supports expansion branch connectors to prevent damage
(8)  Underside incorporates stiffening ribs and compression stops for all mounting screws
(9)  Underside channels guide adhesive dispensing around screws, drilled hole & plate perimeter