New Go Power 30 Amp PWM Solar Controller
The new Go Power 30 Amp Solar charge controller includes new features like Max Boost and an easy to use USB charging port on its face.
Go Power also added support for a second battery bank for solar charging. This 30 amp controller allows a user to properly charge batteries using a connected solar array. This controller will support up to 3 of the 160-watt solar panels by Go Power.
More Info:
Solar Charge Controller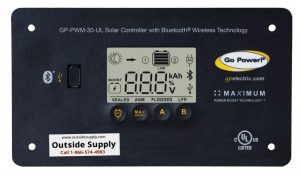 ](http://outsidesupply.com/go-power-pwm-30-amp-lithium-controller-ul-and-bluetooth-free-shipping/)[GP-PWM-30-UL-BT](http://outsidesupply.com/go-power-pwm-30-amp-lithium-controller-ul-and-bluetooth-free-shipping/) The Go Power PWM 30 Bluetooth Lithium controller can handle solar arrays up to 570 watts. Primarily for RV use, It is designed for flush panel mounting, but there is an optional knockout box available for surface mounting. To protect and properly charger your house battery bank, the controller has several different battery charging profiles including Sealed, AGM, Flooded, and Lithium. It can charge two battery banks and is our most common RV charge controller. It is UL listed and now has Bluetooth connectivity. There is also a USB port on the front of the charge controller.

Buy the PWM 30 UL BT from Go Power You can also shop related products: