Warning
: Undefined array key "className" in
/srv/users/outsidesupplyonnewserver/apps/outsidesupplyonnewserver/public/wp-content/themes/astra-child/functions.php
on line
29
The flexible solar panel is designed to provide a powerful charging solution for batteries and conform to almost any surface. Unlike other 'flexible' products, these use high-efficiency monocrystalline cells that produce more power per square foot than any other flexible panel on the market. An impermeable lamination coats the entire module, allowing it to contour and flex against curved areas, eliminating any need for custom mounts. The flexible solar panel can be affixed by adhesive or screw mounting options and grommets are an added bonus for ease-of-installation. The thin, lightweight module can also be sewn into canvas, making it a truly versatile solar module.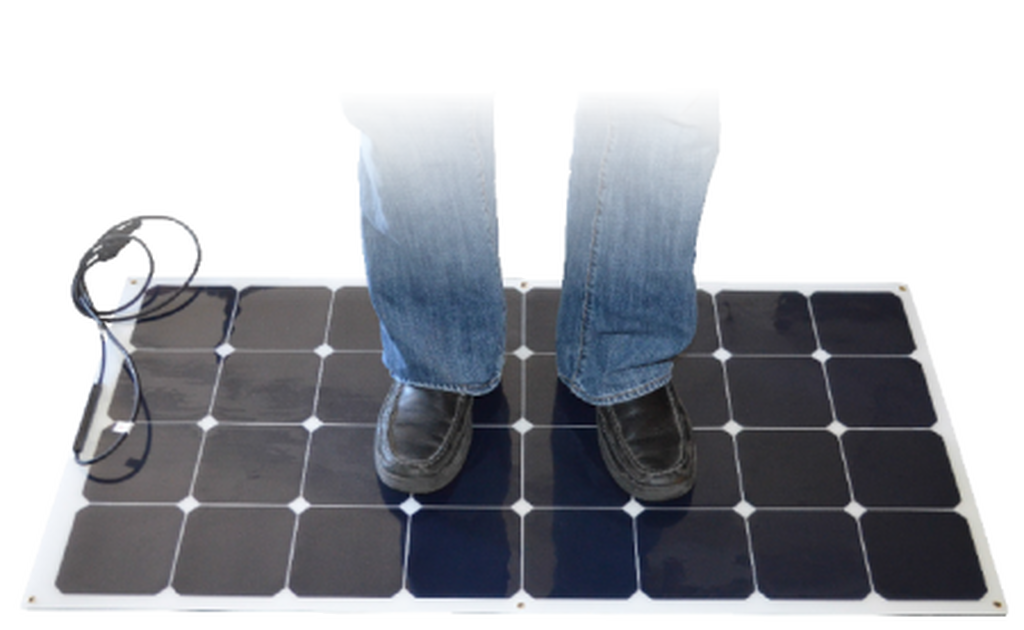 Cell type Monocrystalline Monocrystalline
Rated power (Pm) 100W
Maximum power voltage (Vmp) 17.8V
Maximum power current (Imp) 5.62A
Open circuit voltage (Voc) 20.8V
Short circuit current (Isc) 6.01A
Voltage coefficient –60.8mV / °C
Power coefficient –0.38% / °C
Current coefficient –2.2mA / °C
Module efficiency 19.9%
Maximum system voltage 600VDC
Series fuse rating 10A 10A
Weight 2.9 lb (1.35 kg)
Dimensions 41.7 x 21.3 x 0.1 in
1060 x 540 x 3 mm
Frame type / material Laminated TPT backsheet, includes aluminum grommets
Max power tolerance +/- 5%
Power Specifications calculated at STC:
• Irradiance: 1000 W/m2
• Cell Temperature: 77 °F (25 °C)
• Air Mass: 1.5

The Solar Flex Panels are aerodynamic and durable solar battery charger for RVs, boats and long-haul trucks.
High-efficiency, back-contact solar cells
• Penetrating or adhesive mounting options
• Curves up to 30 degrees
• Durable and walkable surface is less than 1/8" / 3mm thick
• Quick-connect cables (MC4) work in series or in parallel
• Marine grade material
• 82% lighter than other solar modules
Width: 42.00
Height: 22.00
Depth: 6.00
GTIN: 8-39085-00251-3
SKU: GP-FLEX-100
Learn more about RV solar battery charging systems
Check out these other RV solar power articles
Understanding the importance of UV protected wire for your solar setup is key to optimizing…
It can sometimes be really tricky to find the prewired solar cables in a solar-ready…