Warning
: Undefined array key "className" in
/srv/users/outsidesupplyonnewserver/apps/outsidesupplyonnewserver/public/wp-content/themes/astra-child/functions.php
on line
29
Operating your off-grid solar system setup on your RV, Travel Trailer, Cabin or Fifth Wheel Camper is a fun and exciting experience that requires attention to detail. You have to look at several factors from Solar Panel Wattage to Battery Charger Amperage. You have to see how many watts you need to operate off grid in your RV or Cabin. This will tell you how many panels you need from 80 Watts to 160 Watts and more. You then need to look at how to wire directly from the solar panel to the charge controller to the battery. This process will help you regulate and properly charge your batteries. You can setup an automatic transfer switch to switch from battery to shore/ electrical power on the road or at home. You'll need a battery charger to charge your unit with 110 volt electrical power. An inverter is key to powering AC units like blenders, coffee makers and high wattage tools off grid. A 2000 Watt True Sine Wave Inverter is perfect for most applications off grid. A proper fuse, block and cables are required for wiring and setting up your inverter. Once you have all the parts you need an off-grid solar system setup will pay leaps and bounds in the future.
Make sure to follow specific details in installing and using your solar setup while off grid. For example, your solar panels connect to your charge controller to the batteries to the fuse and block to the inverter and so on. These are all DC Loads, and your inverter turns it into an AC load. An automatic transfer switch wires to your RV or Travel Trailer to give you AC power and to the battery charger which will transfer AC to DC to charge the batteries. Call Outside Supply today to discuss solutions and pre sales support.
Check out our RV Solar Guide!
A selection of pre wired solar kits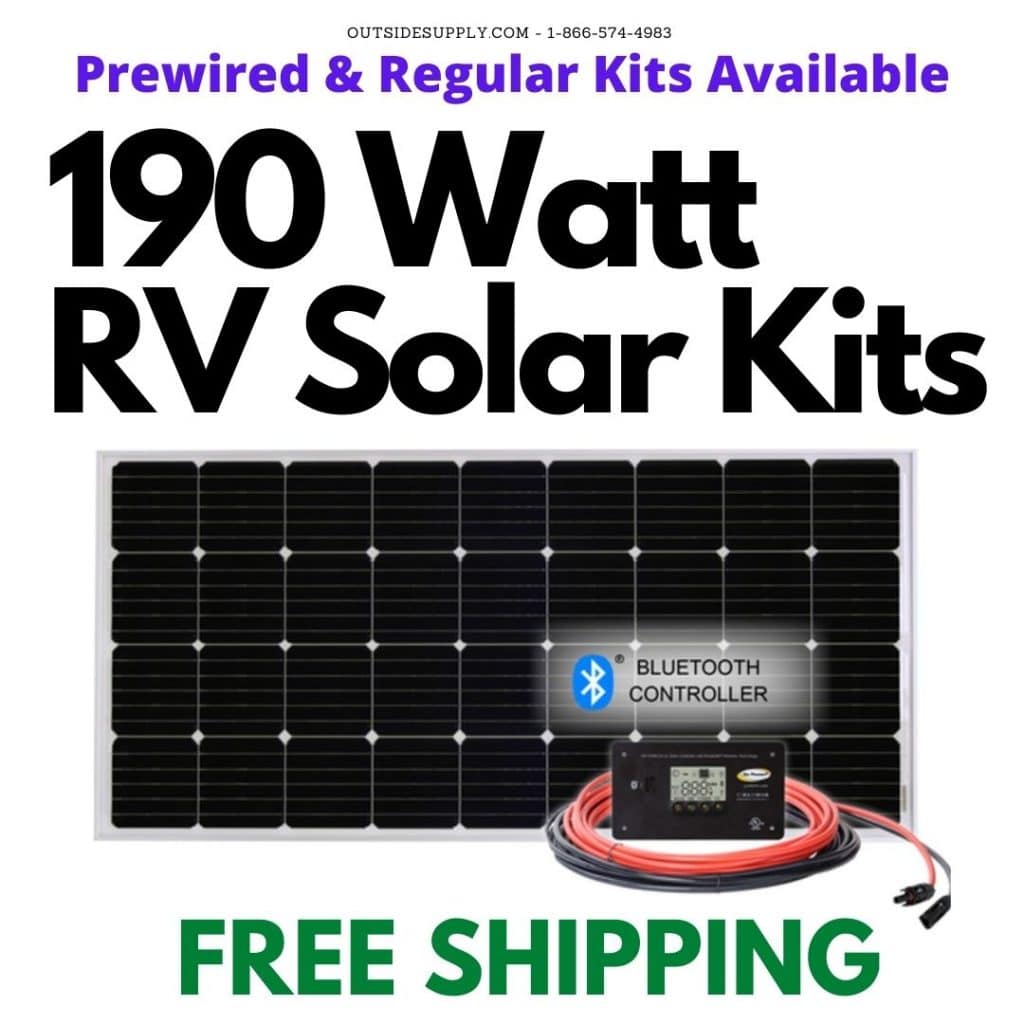 Regular RV Version 190 Watt Solar RV…
Still, need help with getting the right solar kit for your RV?
If you still have questions about adding solar to your camper trailer, motorhome or fifth wheel, give us a call at (We No Longer Take Phone Calls) or request a quote below.
More Information on Panels from our RV solar guide
A selection of articles that may be helpful when building and installing a solar system in your solar ready RV.
Choosing a battery bank size for your RV is crucial in having enough power to…
This is a Pre-wired port. Our GP-PSK-SP accessory connects the Portable Solar Kit to this port.